Plans Unveiled for New School, Park and Car Park on Centre of Manchester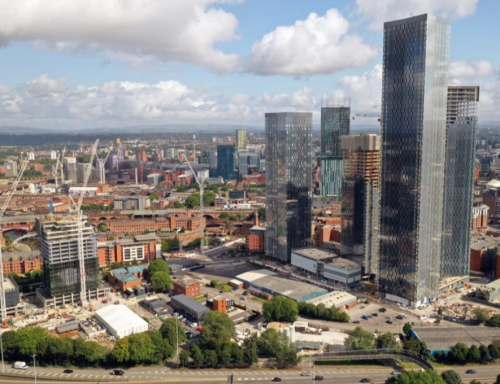 Plans for a new park, school and car park has been unveiled by the firm behind one of Manchester's biggest residential schemes.
Renaker Build is holding a pre-planning public exhibition to launch its proposals for the next phase of the Great Jackson Street project.

The event is taking place next Wednesday from 3pm until 7pm at Deansgate Square's marketing suite, on Great Jackson Street.

The developer is planning to submit proposals to Manchester City Council for a mixed-use development, designed by Simpson Haugh Architects.

The overall scheme will transform the skyline of Manchester city centre with up to 25 towers – seven of which are more than 40 storeys tall.

The development will see over 6,300 residential units alongside restaurants, cafes and local convenience stores, as well as amenity facilities to support the primary residential use, such as gyms, health care facilities and flexible working spaces.

The site will be on the western boundary of the Great Jackson Street framework area – adjacent to Crown Street phase one (Victoria Tower and Elizabeth Tower), which is currently under construction.

The public consultation will be hosted by Renaker with the full project team in attendance to explain the plans, respond to any queries and take on board comments and feedback.

There will also be an opportunity to submit comments on the plans through forms available at the event, or alternatively Renaker can be contacted through consultation@deloitte.co.uk with any further comments.

All comments must be submitted by 11 December 2019.